---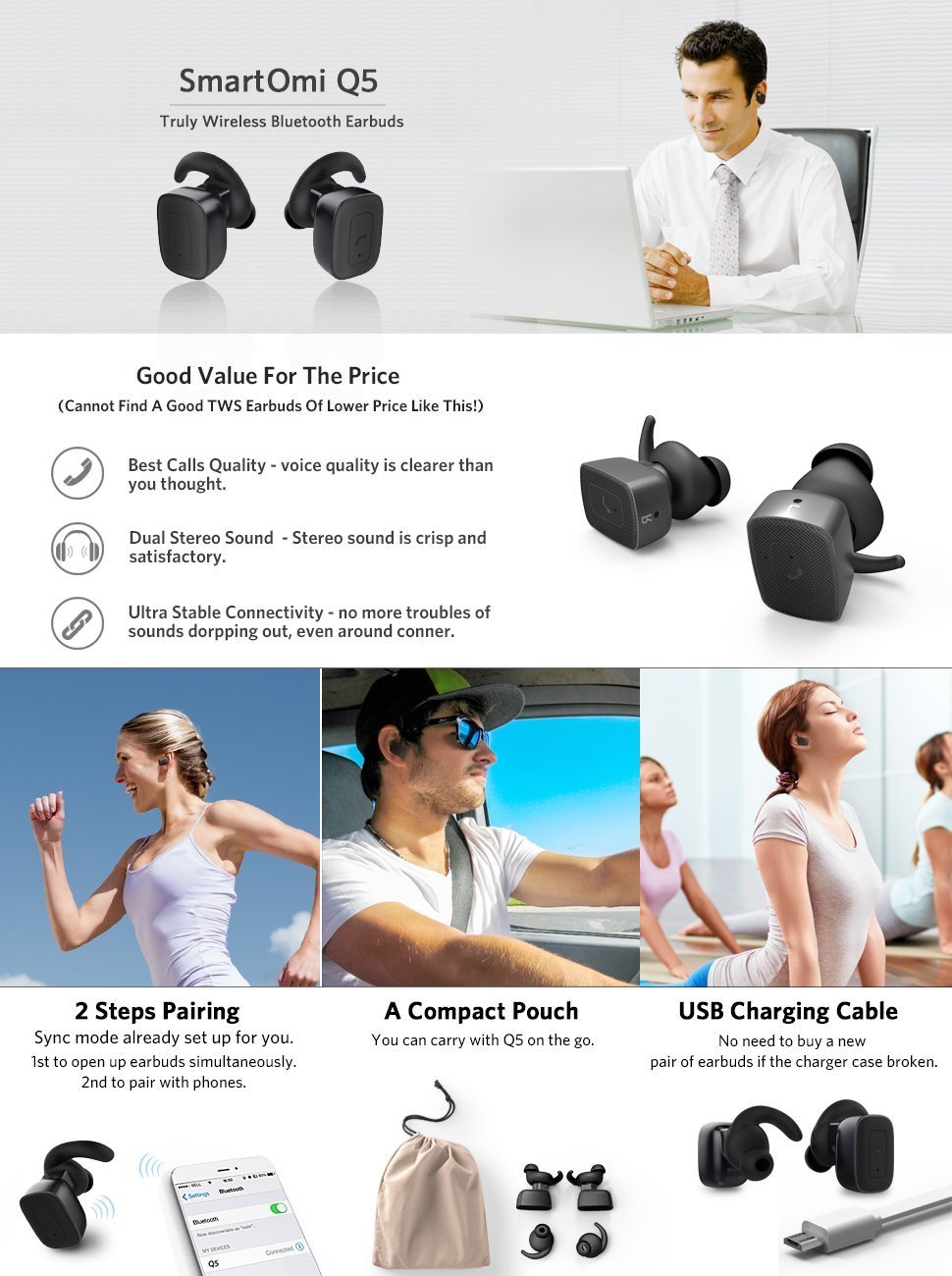 ✔ COMPLETELY WIRELESS EARBUDS DESIGN-This is the ture wireless headsets of cheaper price than similar ones that free you from the disturbance of cord, along with additional type of eartips that conforms with the shape of your ear. Secure fit and no worry about earbuds falling out during workout, fitness, exercise, running or sports.
✔ BEST VOICE QUALITY (Music & Call)-Delicate built-in microphone with noise cancelling and echo reduction enables you to make a clear call as though you are holding the phone. Hands-free switching mode, silent mode, last number redialed, third-way calling and caller voice prompt that satisfy all your needs at a time!
✔ ONE-BUTTON OPERATION-Easy use with one-key to pair, answer/reject/end calls and play/pause music. Enjoy great convinence as the true wireless headphones will be auto-conneted back to devices and musics will be auto-replayed after hanging up. Also you can press the LEFT earbud to activate SIRI in standby status. Low battery alert is also sweet!
✔ RELIABLE BULETOOTH V4.1 TECH-The true wireless bluetooth headphones meet your need for "HIFI" stereo sound under the dual mode, with hyperstable connection penetrating corners and never cut in and out within 10m/33 feet. Compatible with all bluetooth enable devices such as iPhones, Samsung, Huawei, other smartphones and tablets.
►High SOUND quality & REASONABLE price:
✔ A2DP1.3 (Advanced Audio Distribution Profile) allowing stereo sound to be transferred and AVRCP 1.5( Audio / Video Remote Control Profile)allowing hands-free control music are two latest tech to ensure music enjoyment.
✔ Bluetooth 4.1: fast transmission speed and hyperstable connection ranging beyond 10m/33 feet indoor or outdoor without cutting in and out even around corners.
►Make EASY and CLEAR calls(business use recommended):
✔ No more complain that people can barely hear ur voice due to 15mm MIC anti-interference:
✔ Moreover, HFP1.6(Hands-Free Profile)offer more call functions ( Last Number Redialed/ Hands-free switching mode/ Silent mode/ Third-way calling / Caller voice prompt) that save your time without fiddling with the phone any more!
►So SMART & CONVENINENT:
✔ Press the LEFT earpiece for 4s till hearing a sound "du", Siri will be activated.
✔ Reconnection automatically: no longer repairing earbuds with devices manually
✔ Music will be stayed: no longer press button again to replay musics after hanging up
✔ Connected to 2 devices: 1 pair of wireless earbuds with mic for private-use phone & business-use phone.
✔ Low battery voice promt&blink: knowing when to charge your earbuds without power off abrubtly during use.
✔ To unlock more functions by reading mannual
►About Battery:
✔ The big battery in such small body of wireless earbuds is unreasonable. Yet our earbuds still can maintain 3h, taking 2h for full charge.
✔ The USB cable port avoid the problem if a cradle broke you have to buy a new pair of earbuds, which is a waste of money!
►Warranty:
✔ 45-days no reason to return& 1-years guarantee.
---
Featured